SOME MORE AMAZING NEWS !!
Hello to all of our followers thank you so much for sharing Aaron and the ROHHAD Associations amazing news last night that the Marvel Universe LIVE! Heroes completed his puddle jump and are supporting his campaign to #GOMADJUMPFORROHHAD .
Today we want to talk to you all about this amazing young Lady here her name as some of you will know is Emily Middlemas she is such a beautiful talented young lady with the biggest heart to match her musical talents.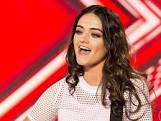 Emily is a huge supporter of the ROHHAD Association and of the children battling ROHHAD. She offered a few months ago to help the charity and Aaron in every way she could and agreed to be our charity ambassador. Since then she has progressed in the X Factor and has been super busy however having spoken to her last night she is still so determined to help Aaron just as soon as she is able too so we are asking all of you to please show your support for her in the way she has supported us!
Vote for her this week and every week she is on the show. As well as being the most talented on the show we cannot think of anyone better who deserves the votes. Her heart is huge she has helped Aaron and Lauren in so many ways and did not have too ! Lauren adores her and admires her Aaron simply put it 'I just love her mum !' She has spent time with them when they were sick in hospital and has cheered them up, she also has helped support our charity events and you may remember performed at our spring ball this year.
She is a genuine caring young lady who puts her heart and soul into everything. We will be voting for her every week and it's so easy to do ! You can download the X Factor app and vote 5 times completely free of charge ! You can also text for 35p (watch the show each week for her number !) I will post all details on how to vote each week on FB and twitter ! But hoping you will all get behind her as she truly deserves this ! Watch the show and I'm sure you will agree. Please get behind her and support her like she supports our charity !! I will hopefully be sharing with you all soon A statement from Emily about why she wants to help the ROHHAD Association but for now let's show her we appreciate her talent and support by voting !
#VOTEEMILY #EMILYTOWIN #EMILYHASTHEXFACTOR
Much thanks from all the team at ROHHAD Association