ROHHAD Syndrome is a cruel, complex disease that severely impacts quality of life. An extremely rare orphan disease affecting approximately 1 in 73 million people worldwide. The children diagnosed with ROHHAD face a daily fight for survival and are unlikely to reach adulthood. To find out More about ROHHAD Syndrome click here.
The ROHHAD Association is a registered Scottish Charitable Organisation (SC045645). To find out more about us click here.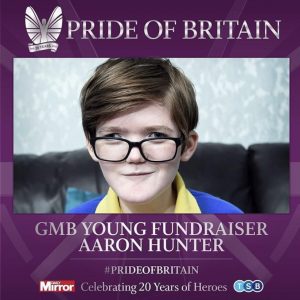 We are thrilled and so incredibly proud to share with you all that our very own selfless, brave, and inspiring superhero AaronMan has won the Good Morning Britain Young Fundraiser Of The Year Award; at this years Pride Of Britain Awards.
We have created an AaronMan Pride Of Britain Award Page, It includes a full reaction from Aaron, on how he feels about winning the award, his hopes for ROHHAD Research, how you can help his mission to #FindACure, as well as more photos and links to videos of the Awards
"Robert Downey Jr has Gone Mad For ROHHAD! This is his Muddy Puddle Challenge!"
To Find out Why Robert Downey Jr is helping Aaron and our charity view this video
How the muddy puddle challenge began with his video appeal #AaronNeedsIronMan
Our Heroes featuring Lauren Hunter singing the charity single "Light The World For You".
Written by Lauren Hunter, Louise Bushnell McFarlane and Greg Friel