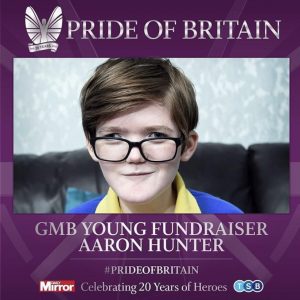 We are thrilled and so incredibly proud to share with you all that our very own selfless, brave, and inspiring superhero AaronMan has won the Good Morning Britain Young Fundraiser Of The Year Award; at this years Pride of Britain Awards.
To Donate to Aaron's Pride of Britain Awards Fundraising Appeal to help raise a further £300,000 to complete the first round of ROHHAD research, You can donate using any method on our donate now page. Click Here for the Charities Donate Now Page There is also a Facebook fundraising Page Click Here to Donate Via the Charities Official Facebook Fundraising Page THANK YOU SO MUCH To Everyone who donates and who pledged to donate. Aaron has asked us to say #ILOVEYOU3000
AaronMan would like to share a few words with you all that he wanted to say at the awards, however due to severe social anxiety and how debilitating ROHHAD is for his body, he was unable to say all that he wanted too. He did manage to collect the award and dedicate his award to all of his special friends with ROHHAD and for him that was the most important thing, he was determined to do this despite how debilitating ROHHAD is for him.
He also wants everyone to know he had an incredible time, really enjoyed the night and that he was so well cared for and looked after by all of the team at Pride of Britain. He said to say you need to watch the show to see why the night and all of the other winners were incredible!
<
" Thank you so much to Pride of Britain and to everybody who voted for me to win this Award. I would like to accept the award and dedicate it too all of the ROHHAD Children. This is for you! Your my reason for wanting to find a cure I know how hard and painful this is and I want to help make you better.

Thank you so much to IronMan and to everyone who did my muddy puddle challenge and to all the people who support the ROHHAD Association charity. It's because of you that we can begin Medical Research now.

I know we need to raise a lot more money if we are going to find a cure and I promise I will try my best to keep fighting and raising funds I'll keep thinking of ideas to help.

If anyone here wants to help you can still do my #GoMadJumpForROHHAD " muddy puddle" challenge it's not too late. Plus there's plenty of rain just now so lots of muddy puddles !!"
Today is #AaronMans 10th Birthday and he has been reflecting on the past few years and the incredible support that the charity has received from so many people around the world.
He is so grateful and it means so much to him that so many people have donated towards ROHHAD research and to help all of his Amazing and Special Friends.
The best birthday present he had today was the first release of funds raised being sent to one of our three Research teams.
He asked his big sister Lauren to help him make some videos to thank everyone and the first video is for all of the people who have supported the charity to help #FindACure for all of the ROHHAD children and also to the incredible Pride of Britain and Good Morning Britain Teams.
AaronMan does want to make a few more videos and Lauren and I will help him with this. Please be patient with him and us as he has to fight daily with this disease and is really very unwell at the moment with it. His body is suffering quite badly but his mood and spirit have been lifted immensely by the overwhelming love and support he received for his mission to Find A Cure at the Pride of Britain Awards ceremony.
He would love you all to tune in tomorrow night 5th of November at 8pm on ITV to see him and the other Inspiring, remarkable and courageous winners of this years Daily Mirror Pride of Britain Awards.

Daily Mirror Exclusive Click Here to See Cheryl who is overwhelmed as she presents Pride Of Britain Award to Incredible Young Fundraiser
More Updates to this page will follow after the show airs on ITV at 8pm on the 5th of November
Co- Founder and Mother to Aaron, Elisabeth Hunter shares some of Aaron's Incredible story and Why she feels Aaron was nominated and won the Good Morning Britain Young Fundraiser Award at this years Daily Mirror Pride of Britain Awards.
"For Aaron his mission to #FindACure for his "special friends, the other ROHHAD kids" began when he became aware that some of the other children had lost their lives to ROHHAD, he was heartbroken for their families and told us he didn't want their mum's and families to be upset, he also said "I don't want anymore of my friends to die."
Aaron knew that his doctors in the UK and other doctors around the world wanted to help the children and were willing to do Medical Research; they just did not have the funding because of how incredibly rare ROHHAD Syndrome is. He couldn't understand why there was no funding, "it shouldn't matter that we are rare mum! Why can't the government help us ?". He even wrote a letter, then aged 5 to the First Minister of Scotland Nicola Sturgeon asking that very question?.
Watching the news with his papa and seeing how successful the ice bucket challenge was for raising awareness and funds for medical research into another rare disease called MND (ALS), Aaron declared this is what I want to do to help save my friends from the "Evil ROHHAD". A massive superhero fan and only 6 at the time he would speak as if this was his mission and there was never any doubt that his first nomination for his own challenge would be IronMan and the Avengers!
After brainstorming ideas with his big sister Lauren, Aaron decided the challenge was to Jump In Muddy Puddles and his #GoMadJumpForROHHAD "Muddy Puddle Challenge" was set !
When a year had gone by and despite tremendous support from the other families affected, our local communities and even a muddy puddle jump from the First Minister herself, Aaron was certain that his favourite Hero IronMan had not see the video or his letter yet "IronMan hasn't seen it yet mum because if he had he would have helped us can I make another video please ? And this time I want to speak to IronMan"
Our family, friends and charity team enlisted the help of Aarons fellow ducklings (Robert Downey Jnr fans) and Marvel fans and his twitter video #AaronNeedsIronMan began to trend. Aaron also had help from the charity When You Wish Upon A Star Scotland, who were so inspired by how selfless Aaron was. He asked them to please help him reach IronMan so that he could ask Robert to help him raise awareness and help his "special friends". With the support of the fans, and both charities Robert and Team Downey seen the video.
Aaron was right… his favourite Hero would help his special friends, he would complete his muddy puddle challenge! This moment for Aaron was "Awesome really Awesome" and Robert himself has explained "As I got know him more, I just got caught up in the spirit of his desire to help others who like him have this extremely debilitating disease"
The support and love that Robert Downey Jnr, his family and friends (#TeamDowney) have since given to Aaron and his mission to Find A Cure has been incredible. Our family and all of the families affected globally are deeply grateful to Robert for his help,in raising awareness and funds for medical research. Many of Aarons friends, the other ROHHAD children have told us that seeing IronMan Jump in a muddy puddle for them has filled their hearts with hope.
Aaron's fundraising ideas may have begun with the muddy puddle challenge but they have not stopped there and he has gone on to be a key player in our charity meetings, "I'm the ideas man now mum!"He has shared many fundraising and awareness ideas with us including the #ZeroToHero sporting challenge that is inclusive of all ages and physical abilities which was inspired by him and his desire to include everyone and have a challenge that all of the ROHHAD children could do.
Aaron being willing to share his story and details of what it is like living with such a rare disease was crucial in helping the charity raise a staggering £160,000.00. He knows that we could not have done this without the support of our local community and the other families around the world affected by this cruel disease and their local communities too. He is deeply grateful for their love and continued support to help Find A Cure.
With the help of Robert, the muddy puddle challenge and the fundraising campaign that Aaron and Team Downey worked on the total funds raised and donated was £150,000.00.
Charity funds raised to date now stand at £310,000.00 and every last penny will go towards Medical Research For ROHHAD Syndrome.
The charity board have offered funding to 3 leading research teams and would love to work with the 4th team that applied for funding in 2019/2020. Unfortunately despite the money raised being a staggering amount we must double what has been raised so far, so that we can complete this first round of Research. We have a year to achieve this. The charity board and peers of the doctors and scientists that have applied are confident that in funding this research we will discover the cause of ROHHAD syndrome.Click HERE to Read More about the Teams of Researchers The funds raised will be going too
None of this would have been possible without the determination and bravery of the strongest, humble and most selfless young man I know. Everyone that knows Aaron well, his family, our closest friends and charity board, his nursing carers, his teachers, his doctors will all tell you the same thing. He is a very shy, humble and honest young boy who does not like to be the center of attention, he also hardly ever complains despite living with such a debilitating disease. He always does his upmost to make others happy and will often put the needs of those he loves above his own.
He was so brave to share his story and intimate details about his rare disease publicly and his motivation was the other children who he loves and cares for so much.
Perhaps Robert Downey Jnr sums it up best when he said "I may play IronMan but Aaron is the real Hero!"
It really is true you cannot help but get caught up in his spirit and desire to help others battling the same debilitating disease as him. Aaron Hunter is my inspiration, my hero and I am blessed to call him my Son."