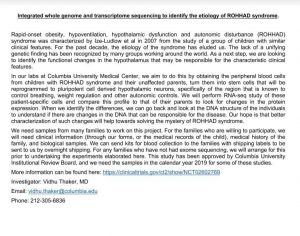 Good evening everyone, we will over the next few days be emailing the families who have agreed for us to contact them regarding medical research however time is vital for this particular research project as the time line has been altered by those funding the exome sequencing and samples are now required sooner.
Therefore we are sharing this on all ROHHAD pages including the charity public pages and websites. Please consider signing up for this and participating this is the project I have previously informed you all about and they require your child as well as parents (were possible) and siblings were possible.
A few things to note the timeline has been changed you will need to participate sooner than first expected and before the end of August so time is against us therefore if you want to participate please contact Dr Thaker Team ASAP.
You NEED to contact Dr Thaker she cannot contact you and we cannot pass your details on see the photo below for her contact details.
You will need to sign consent possibly more than once due to some potential changes.
You will if you agree to do it be sent blood sample bottles and you will need to make apt with your physician/ GP to have the blood drawn... the charity is willing to cover return postage costs and help organise the same day parcels collection with you.
Just let us know when you have the bottles / consent and questionnaire forms/ when your samples are booked to be taken and we can help you with the rest. For that you need to email us at [email protected]
We will be speaking to our friends at RA Belgium to see if we can have the forms translated into different languages were required we currently have English and Spanish.
If you have any questions pop them down below in comments or email me ! I'll try my best to answer.
Finally we can have up to 75 families participate in this if you have had your exome done before you can have it done again. If you have worked with other research teams previously please consider helping this team too we are all in it together and the only way to understand this disease better, improve treatments and find a cure is to participate when we can in the research. So please contact Dr Thaker and us too if you have any questions or require help shipping back your samples!
There will be more research posts from us as we move forward with releasing the £275K we have raised for research.
Thanks in advance to all who participate
#GoMadForROHHAD #MissionFindACure