https://www.facebook.com/robertdowneyjr/videos/858723674296099/?t=10
Wooohoo  the real IronMan has done Aaron's Challenge and he is calling on all Marvel FANS, the Avengers and fellow Marvel Universe Heroes to do the muddy puddle challenge too 
Aaron would like to say -
"This has been the best time of my whole life ever and I am so excited to see everyone having fun and helping my special friends by doing my muddy puddle #GOMADJUMPFORROHHAD challenge. THANK YOU everyone who helps us. I love you so so much IronMan, your my best friend and I always knew you would want to help us love Aaron"
This was by far the most magical moment of Aarons Life ! and his thoughts on the challenge "It was Awesome!" Aarons weekend with his Favourite Hero finished in style with his wish being fulfilled as he watched Robert get wet and muddy to help all of the ROHHAD children ! Aarons Heart is so full of HOPE right now for all of his special friends ! The Mission is to defeat the Evil ROHHAD and He cannot wait to see you all Go Mad and Jump For ROHHAD
To all who HELP by donating & taking part in the challenge we say a MASSIVE THANK YOU it is with your help we're gonna find a cure !
Robert and Susan Downey Random Act Funding charity are this year supporting the ROHHAD Association charity. They are running an incredible competition and you can get involved, donate and enter via www.crowdrise.com/RDJ .  If you donate $10 you will be entered into the prize draw to win 2 VIP Tickets to the premiere of   #InfinityWar and hang out at the after party !!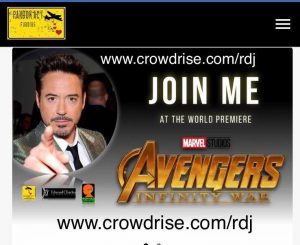 Special Thanks to Robert Downey Jr, Susan Downey and #TeamDowneyfor their Incredible support. The HOPE that all of the families affected by ROHHAD now have would not be happening without YOU!
To everyone who helped Aaron reach his beloved,  IronMan! from the ducklings to family friends and when you wish upon a star (who grant terminal wishes) We thank you so Much ! (you all know who you are)
https://www.facebook.com/robertdowneyjr/videos/854392214729245/