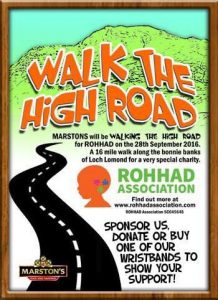 All of the Team at the ROHHAD Association would like to say A HUGE THANK YOU to all those from Marstons who 'Walked The High Road for ROHHAD' On Wednesday the 28th of September.  As expected the weather was miserable, it rained all day and the team were soaked to the skin !!  However they did not let it dampen their spirits and everyone of them completed the 16 mile Hike from Balloch to Luss and Back again.  The team had members from all over Scotland and the North of England.  Aaron was there to cheer them on as they finished and he presented them with a medal; he wanted to say thank you for helping him and his special friends around the world fighting ROHHAD.
After completing all those miles, the team stayed on for The Queen Of The Loch Quiz night.  It was a lot of fun and many of our local supporters came along as well as some special friends from America, Sedona's Mum and Dad were on vacation in Scotland; so the Team at Marstons were able to meet 2 families affected by the cruel disease ROHHAD.
It is never too late to sponsor the team !! please donate via this link
https://www.justgiving.com/fundraising/QueenoftheLochforROHHAD
Marstons have many more events coming up in the month of October so please check out your local one and see what they have planned.  The Queen Of The Loch are hosting a Family Fun Day this Saturday (1st of October 2016) and we will be there with our face paints and glitter tattoos.
We are deeply grateful to all the Team at Marstons who are helping our charity and we are also grateful that they want to continue to do so.  Once we know how much has been raised from all the events we will update you; for now though here are some of the fabulous photos from yesterday.