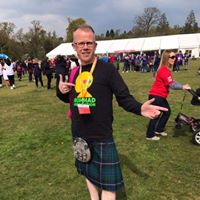 The Team at ROHHAD Association would like to give a huge warm welcome to our new Trustee Stephen Whyte.
Stephen is very passionate about the ROHHAD Association and has been helping the charity consistently from our very first fundraiser almost 2 years ago until now.
Stephen has vast experience in fundraising and has organised events in the past for various charities including our own 3 Peak Challenge Team.  Stephen is a hard working Father and Husband but he always makes the time to help at all of our fundraisers often bringing his family along to help support us too.
His dedication and passion for helping the ROHHAD children has led to the natural progression of being appointed into the role of Trustee.
So welcome aboard Team ROHHAD Association Avengers Stephen ! We thank you for all your hard work so far in volunteering and we look forward to working with you as Trustee.   Here he is at some of our events !