The ROHHAD Association charity has some incredible prizes to give away in this raffle and entering could not be easier, simply fill in your contact details and select how many entries into the raffle you wish to purchase and process your payment.
https://www.trybooking.co.uk/DAC
click the link above to enter the raffle thanks
All proceeds from the Raffle will go directly to the ROHHAD Association charity. 3 Top Prizes please see the photographs and information below.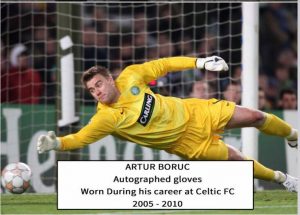 We have 3 Top Raffle Prizes to give away. 1. Top Prize - Framed Celtic Football Shirt Autographed by the Invincible Treble Winning Team 2016/2017.      2.  Runner Up Prize - Framed Artur Boric Autographed Goalkeeper gloves he wore during his time playing for Celtic Football Club.  3. Third Prize - Football Autographed by Celtic Football Club Invincible Treble Winning Team 2016/2017 within a presentation box.  Raffle Entries cost £3.00 per entry or 2 entries for £5.00.  You can Purchase your raffle entries anytime between Friday the 26th of October 2017 and Monday the 18th of December when online entries close at 2pm.   The Raffle will be drawn on Monday the 18th of December at 7.30pm, this will be done via a LIVE Video feed on the charity facebook page.  The winners will be notified on Tuesday the 19th of December.  Please read our full terms and conditions before purchasing an entry into this raffle these can be found on our trybooking event page.  Thank You to all who participate for more information about the charity your helping please visit our website www.rohhadassociation.com and or our social media pages on Facebook and Twitter.