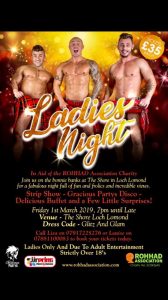 Calling all Ladies to Join us for a night with Incredible Views all around !!
Our fabulous Ladies Night is taking place on Friday the 1st of March 2019 and our venue is The Shore in Loch Lomond with picturesque views, exquisite food and more.
Treat yourself to a night of fun pleasure glitz and glam ! We promise that this will be one night that you will not want to end
Tickets cost £35 per Lady and your evening includes
-Strip Show by the Sassy Boys
-Disco and Party with the fabulous Stephen Dunn from Gracious Party's
- A little pain for your pleasure ! as some Spunky Male Volunteers will be doing the #GoMADWAXForROHHAD Challenge
-Buff Buttlers ready to serve your drinks 🍹
- Exquisite delicious food prepared by one is Scotlands top Chefs, we have tasted this food and believe us you won't be disappointed!
- Raffle with Incredible Prizes
- Raffle to Win Private Lap Dances on the Night
- Covered Terrace view overlooking the picturesque Loch Lomond.
And more.......
We have had a lot of interest in this night and tickets are now available to book but hurry we do not want you missing out ! Click the link to Try Booking to book online

or call Lisa on 07917225276 if you prefer to collect tickets from the charity office and pay cash.
A few little rules!
Due to Adult entertainment this evening is strictly over 18's only if you buy tickets you are telling us your over 18, if your lucky enough to look younger we may have to ask for ID as per licensing and venue laws so please bring some with you
This is a ladies night so ladies only ! Except for the entertainment
The Live strip show is classy but sexy and it does include full frontal nudity, the rules are one simple one - NO Inappropriate touching! You can look 👀 but no touching 👌 (lap dances have their own rules and these will be explained by the gentlemen on the night)
Photography rules will be explained on the night but the good news is you can take some photos ! And have some taken with the strippers and Buff Buttlers all for a small donation 😜
The biggest and most important rule - HAVE FUN! Dress up and come join us for A Night You will want not want to finish!!!!