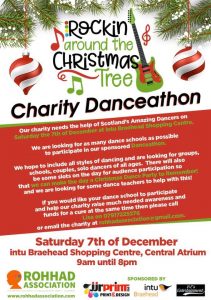 "Rockin Around the Christmas Tree"
Christmas Charity Danceathon at Intu Braehead shopping centre In Aid of the ROHHAD Association.
Date of Danceathon: Saturday 7th of December 2019
Start of Danceathon: 9am
Finish time of Danceathon: 8pm
Type of performances: dancing of all styles throughout the day performers include all ages, dance schools, groups, soloists, duets.
Music: Both Live music and music played by our dJ
Style of dancing: All styles welcome and will be performing.
Opportunity for shoppers to join us with a dance lesson or two throughout the day.
Our theme is Christmas and we would love a mixture of dance styles and Christmas music solo performances are allowed as well as groups and couples. The dancers will be dancing around and underneath the tree as it is elevated of the floor within the central atrium at Intu Braehead shopping centre.
We are hopeful that the event will help us raise awareness and much needed funds to help find a cure all whilst spreading some Christmas cheer with a Christmas Party to remember !
Our performers can help by raising sponsorship both before and on the day of the event.
Supporters will be able to Donate online via Facebook or on the day via our charity buckets, the performers can also request a paper sponsor form if required!
Our team of volunteers will also be on hand to raise awareness on the day and hand out charity brochures and sell charity merchandise.
We have plenty of slots to fill in our charity Danceathon so please get in touch ASAP if you want to participate, the schedule is beginning to fill up Message the charity directly via Facebook or text Louise on 07881100083.

Dance teachers Can you help with dance lessons for the public: 2 slots being pencilled in for in the afternoon for 20 minutes each time. If you can please let me know availability.
Dancers who may be available for gaps between schools performances: (we are looking for dancers to help with any spaces that need filled on the day between each performance school, soloists freestylers and small groups)