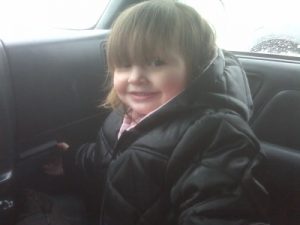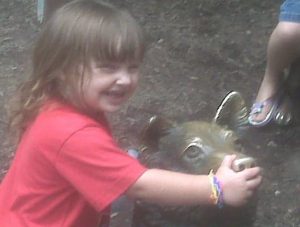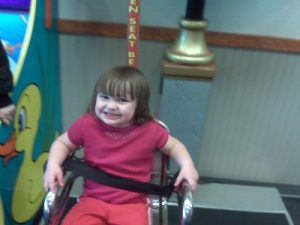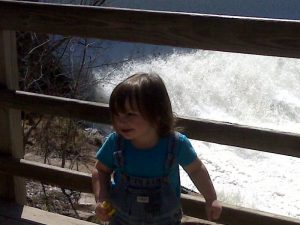 Meet Savannah one of our Inspiring ROHHAD Warriors; this blog was written Bg Savannah's mum Sabrina for Rare Disease Day 2019 - This is her #RareReality
"Savannah was born on March 27, 2007 at 7 lbs 11oz. She was a happy and healthy baby and we were absolutely loving life. Savannah was our third child so we thought we were prepared this time around. Boy were we wrong. Savannah started turning blue around 4 months old and was then diagnosed with having ASD. Although it wasn't the best news to hear it wasn't the worst either. So we continued on living life and made the best of it.
Savannah has always been full of personality and would always make you smile without even saying a word. She loved to spin. She could literally spin for hours. We became alarmed when Savannah didn't start talking by the time most kids did. In fact she didn't say a word till she was 3. She also never felt pain which was the scariest thing I could think of at the time. We had to keep an eye on her at all times in fear that she would seriously injure herself and wouldn't know.
She started gaining weight when she was 3 years old. I took her in to her pediatrician where they told us she was autistic and that we were overfeeding her. Overfeeding her? Really? She ate less than any of our other kids and was way more active but yet somehow it was our fault!?
On her first day of kindergarten Savannah was was much bigger than most kids in her class and she was bullied badly right from the start.
She started turning blue again while in gym class so we took her back in to her cardiologist. After several tests we found out she had dysautonomia and pots syndrome. She has no control over important things such as blood pressure, body temperature, heart rate etc.. and her salt balance became an issue as well.
As time went on and Savannah got older she was still gaining weight pretty quickly and according to the doctors it was still our fault no matter what we told them they just wouldn't listen. In the summer of 2017 she was 10 years old and by this time she was starting to have a lot of trouble breathing and getting out of breath real easy but we thought it was because of the heat and the fact that she was overweight. In the fall of 2017 it hadn't gotten any better and she would also stop breathing at night when she was sleeping so we scheduled her an appointment with her doctor. She referred us over to a respiratory doctor in December of 2017 and Savannah had a sleep study done.
At her follow up the doctor informed us that she had severe Obstructive Sleep Apnea. He said the first two minutes after she fell asleep, she stopped breathing 23 times, and when she went into REM sleep she stopped breathing over 100 times the first hour and that her carbon dioxide level was high. He told us that based on her medical history over the years, and from what he was seeing now, she may have ROHHAD syndrome. So our journey began. They ran every test they possibly could during that time. We found out that Savannah has Hypothyroidism, Adrenal Insufficiency (Cortisol Deficiency), Exercise induced SOB, Paroxysmal Vertigo, Vocal chord dysfunction, and physical deconditioning. The Neurologist also foud a cyst on her pituitary gland. She also has ADHD, ODD (oppositional defiance disorder), Anxiety, Dysautonomia, POTS (Postural Orthostatic Tachycardia Syndrome), Asthma, Delay in Development, Learning Disability, Dizziness, Headaches, Obesity, and Developmental Expressive Language Disorder. Savannah also has decreased pain perception and a few other minor issues. Savannah has also had a breathing/stress test done.
The doctor said she did not do good at all. When her heart rate goes over 140 bpm her oxygen levels drop down into the low 80's, then she cant breath and she begins to hypoventilate. After all the testing the doctors had done that came to two possible diagnoses. ROHHAD syndrome or Congenital Central Hypoventilation Syndrome. In May 2018 we had an appointment with the genetics department they told us that they needed to do a PHOX2b test to check for CCHS, but our insurance wouldn't pay for it. After some runaround we were finally able to get the test done. In July of 2018 (Savannah was 11 years old at this point)we were told that the test came back negative for CCHS and that as a result she definitely has ROHHAD syndrome.
I thought our world had ended with the news we had gotten from the doctor but Savannah is a fighter and we are even stronger now than we were before because of Savannah. Savannah has been getting worse these past few months with her breathing, and the medication that she's on for her thyroid, cortisol, dizziness , etc. are not working that well. The doctors don't know what to do anymore.
Savannah was diagnosed quite late on with ROHHAD and it is proving difficult to treat her symptoms because they are not in the early stages any longer. Savannah is on a waiting list to see a specialist who has seen kids with ROHHAD syndrome but we are 8 months out on the waiting list and we are slowly watching Savannah get worse. She is up to 250 pounds now and at the point now where she is having so much difficulty doing simple tasks anymore because of her ROHHAD and other medical issues.
This is a horrible disease that robs kids of their entire childhood. Prior to the ROHHAD diagnoses we had dreams, hopes, and ambition for her future. Prior to ROHHAD we saw a child who was able to be a child. Now it's appointment after appointment, pills,pills, and more pills and a child who often gets left behind by her peers because she can no longer do the things they are doing, things she used to enjoy.
It is so hard having to watch your child go through this but if her journey has taught me anything it's to always take one day at a time and never ever take for granted the small things because even though the small things don't seem as important to you sometimes that little rock they just gave you from the ground or that picture they spent so much time coloring means the world to them, and when the sun rises again it may be the last thing your precious angel could ever give you.
#ROHHADSYNDROMEAWARENESS
#ShareYourRare
#SavannahStrong