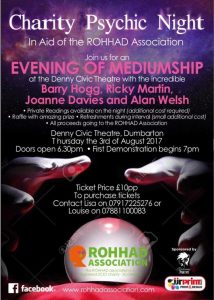 Barry Hogg, Ricky Martin, Alan Welsh and Joanne Davies.  If Psychics and mediums interest you this is one night you do not want to miss.
Tickets cost £10.00 per person and include 3 hours worth of Mediumship and Psychic demonstrations.  Tickets are already selling for this event and are available to purchase now.  Call today to make sure you have yours.
Doors open at 6.30pm and the evening begins 7pm sharp, the evening will finish at 10.30pm.
Private Readings are available on the night at an additional cost of £15.00 per person for a 15 minute reading. These are limited and will be booked on a first come first serve basis.  Readings can be booked in advance.
Refreshments of Tea, Coffee, Water, Juice and Home Baking will be available for a small additional cost before the evening begins and during the interval from 8.30pm until 9pm.
There will also be a raffle held on the night with some fantastic prizes donated by local businesses to be won.
Contact Lisa on 07917225276 or Louise on 07881100083 to buy your tickets.
You can pay for them online and they will be available to collect on the night or pay in cash and collect from the charity office in advance.