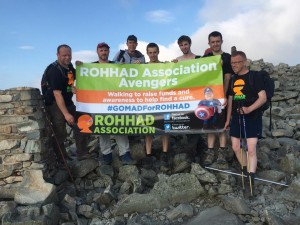 Team at the Summit of Mount Snowdon Wales
We would like to say a HUGE THANK YOU to Team ROHHAD Association Avengers who took on and completed the 3 Peaks Challenge recently in aid of the ROHHAD Association.

The challenge was impressive and very demanding physically however the Team completed it in within the 24hrs.  The total amount raised in sponsorhip will be updated in the next few weeks once all sponsor money has been collected in and counted.
Congratulations to Ian Hunter, Stephen Whyte, Chris Whitbread, Scott Kitchener, Thomas Kitchener, Colin Blake and Scott Richardson on completing the challenge and Thank you so much for helping raise awareness and funds for the charity.  
Special thank you to Liam McColl of McColls Coaches who sponsored the transport for challenge.  The driver Andy was a crucial part of the team and transported them safely to Wales, between the 3 peaks in England and Scotland and home again. The support given to the team by McColls Coaches was incredible and we are truly grateful to them for helping.  
Finally we would like to thank all those who sponsored the gentlemen as they undertook this challenge and assure you that every penny you have donated will be used for medical research into ROHHAD; allowing doctors to understand it better and hopefully improve treatments and find a cure.
Here are some photos of the team in Action !!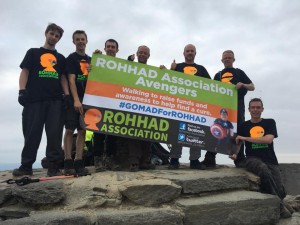 Team at the summit of Scaffell Pike in England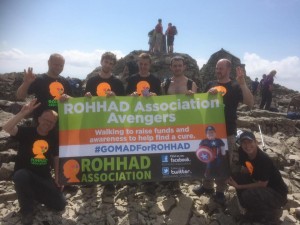 Team at the summit of Ben Nevis in Scotland