Meet Reagann she is a beautiful and remarkable young girl who lives in the state of Missouri in America with her mum, dad and family. Reagann is 7yrs old now and has been battling ROHHAD since symptoms first began aged 2.  Diagnosis for Reagann  came after 2 long years were she had to battle very hard against many of the symptoms of ROHHAD, including cancer.  Fighting hard is in her blood and in her spirit like all of the ROHHAD children Reagann has had to fight very hard many times.
Her mum BJ and all her amazing family and friends have fought hard to help raise awareness in Missouri and in the USA.
They even have an official ROHHAD Awareness day in the state of Missouri; which is the 7th of May. This took a lot of work to achieve and is a day the charity will recognize this year with a fundraiser.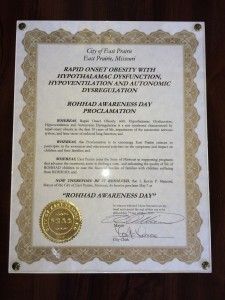 Here is a copy of a newspaper article that was written about Reagann as part of the ongoing work BJ has done to help raise awareness.  Continuing that work BJ will be sharing Reagann's  story with you all via her blog on the ROHHAD Association website and FB pages and @ROHHAD_GLOBAL on twitter.  Follow us and get to know the children as we blog daily about a different child.  Thank you to all of you for your continued support.