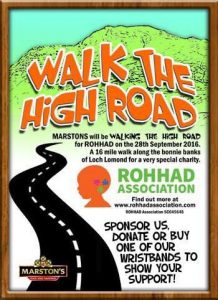 Marstons in Scotland and the North of England are currently raising awareness and funds for the ROHHAD Association and we at the charity are delighted and so grateful for their support.  Many of the Marstons Team will be 'Walking the High Road' on the 28th of September 2016.  You can show your support by donating via this Just Giving page -
https://www.justgiving.com/fundraising/QueenoftheLochforROHHAD
The Queen of the Loch in Balloch are also hosting a Quiz Night on the evening of the 28th of September 2016.  It begins at 8pm but we suggest coming along earlier to register your team.  It is free entry however there are plenty of ways for you to help raise funds for the ROHHAD Association.
On Saturday the 1st of October, The Queen of the Loch will also be hosting a family fun day full of exciting things for your kids to do.  So if your heading out for a family meal that day then head to Balloch for an amazing meal were your kids will have a lot of fun activities to take part in.  Activities begin at 12pm and they include face painting, glitter tattoos, prizes to be won, Birds of Prey and more....
We would like to say a HUGE THANK YOU to Marstons for supporting the ROHHAD Association; and to all who go along and donate at the events.  Your support will hopefully help lead to a better understanding of ROHHAD and one day to a cure.