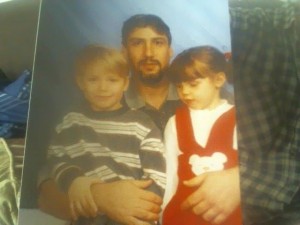 Well time to say a little more about my lovely daughter from where we left off.
Thinking back to when Emilee started school, it should be the happiest days of her life however at the same time she is getting sicker and sicker and none of the Doctors can tell me what is going on .
I can tell you it was very frustrating when all they can say is watch what you are feeding her even though you know that is not the problem. In Kindergarten she was doing very good and still had a few friends but at school not so much. I can see Emilee is still gaining more weight and now her temp will not stabilize it ranges from 106degree F( 41.11 degrees C ) to where it does not even register on the low end of thermometer and again Dr s do not know why.
Academically Emilee is still achieving 100% on all her school work even though she misses a month straight being in the hospital.
Having tests done and trying to keep her temp normal is mostly why she is spending so much time in the hospital for at this point. When we have to go to the hospital our local one they send her to a bigger hospital that is a 2.5hr drive for me and I still have Tony her brother to take care of. As a single parent it was hard to juggle it all and sometimes I would keep him with me and go to hospital to be with Emilee. This meant he was also missing school and for now he was doing really well in his work at school too.
Then sometimes I would have to stay at home and Emilee would be at the hospital by herself; I hated both situations take Tony with me and he misses school or leave him with someone and I go to hospital with Emilee or leave her alone in hospital. None of those decisions were easy and such a difficult choice to make neither is very good for any of us.
For now we where getting through it . Many times Emilee would end up falling asleep at school, we know now this was due to ROHHAD. I would go and collect her and bring her home and despite this her 1st grade work was excellent.
Her body and mind was getting worse and worse, she became affected by Diabetes which was really difficult and some violent tendencies were starting, her behaviour was changing before this she would never have hurt anyone or anything ever. As all of this was progressing and her body was changing so much, still Doctors could not tell me what was going on.
In the summer months Emilee spent 2 weeks at her mom's and while she was there she had a seizure this was to be her first one of them with more to come. Her mom lives 8 hrs. from me so I went straight down there to see what was going on and still the Doctors had no answers for us they knew she was sick but did not know yet what was causing everything.
I was so scared of what was happening to my beautiful Emilee and then her mom decided she is going to try and take her from me. Her mum went to children's services to try and keep her. I loved my daughter with all my heart and I knew that staying with her mom was not in her best interests given that I was her main guardian and her father, I fought hard for Emilee as I knew it would be very hard on my baby girl. I went to a lawyer and managed to have Emilee returned home to me were she belonged.
Not long after she returned home her teachers wanted to test her for gifted classes because of how smart she was and how good she was in school . The problem was getting it done because she was spending more and more time in hospital and missing so much work because she was still having so much trouble staying awake at school. When Emilee did manage to take the test so when she did very well but just missed out by a few points.......................................
I will write more again soon, this is enough for me just now; none of this is easy on me but I hope it helps or comforts some people more to come soon.