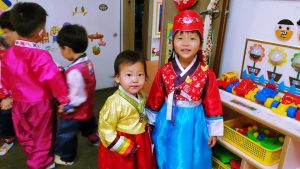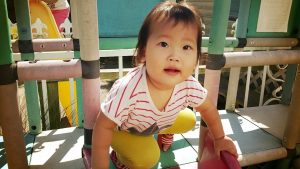 Seohyun above before ROHHAD Syndrome
Let me introduce my beloved daughter, Seohyun.
Born lovely and beloved of the whole village.
She was a little girl who was healthy and energetic.
Before Seohyun reached the age of two years old
She began to struggle with her breathing and suddenly she always seemed to be sick and feeling sick. I took my beautiful daughter to many of our big hospitals, but nobody could understand what was wrong with her, they didn't know the cause.
Nine more months later we slowly began to get answers through extensive tests they discovered my daughter had a tumour on her kidney and a spinal cord.
We found out that it was a cancer called neuro endocrine tumour.
They had to Leave the cancer on her spine after the tumor resection as it was too risky to remove it all. Seohyun has had to have auto-controlled cell transplantation eight times, as well as chemotherapy, She also needed 12 doses of radiation and more medication.
For over a year, she has been holding up and seems to have developed the power to fight her diagnosis and her cancer.
But in the midst of such a hard struggle, our daughter continued to decline and have difficulty breathing and gaining weight that was causing serious problems within her body.
She suffers from neuromuscular degeneration and has severe difficulty adjusting her body temperature. I've watched ROHHAD syndrome almost destroy my child, her quality of life is severely affected.
The ROHHAD syndrome is something we have had to try and get used to as a family but it seriously effects us all. We see it as a very bad disease that's kept our daughter in hospital a lot and indoors.
She struggles so much going out she is so weak and has little muscle control, so she can't go out without a breathing tube, the rapid onset obesity does not help and she feels a lot of leg pain. It's so difficult to move without a wheelchair. Our daughter can no longer go to school and it has really hindered her social life. Like other children, who can run around with your friends, my daughter cant do that anymore.
My lifelong wish is to Find A Cure, I do not want to see my daughter suffer like this, but this is her life until better treatments and a cure are found. Research is Vital and so important. Please help us find a cure and until then my daughter will continue to suffer for the rest of her life and have to stay home.
I pray we find a cure.