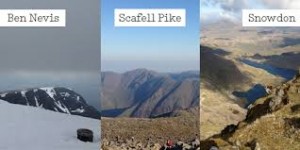 The 3 peaks challenge event will be a huge undertaking by the ROHHAD Avengers Team; it should never be attempted as a challenge by anyone who is not physically and mentally capable as this is an extreme test of endurance and stamina.
The Team will scale Mount Snowden in Wales, Scaffel Pike in England and Ben Nevis in Scotland and will attempt to do this within 36hrs.  The challenge will begin in Wales and end at the bottom of Ben Nevis from the 4th until the 5th of June 2016.
This event has been organised by Aaron's Dad Ian Hunter and his close friends and family; after his good friend Stephen Whyte said he would like to do this challenge for the children battling hard against ROHHAD.  At the moment the team consists of 10 participants however there is room on the bus for some more so if your fit enough and ready for a challenge of this size then please get in touch via the website.
The  team are doing this to raise much needed funds for the ROHHAD Association.  You can sponsor the team via our donate now button on the website, or our Just Giving Donation button.  You may prefer to sponsor via your mobile phone it is so simple; all you need to do is text  'Peak01 £5.00' to 70070.  All support for the 3 Peak team is massively appreciated.
We would like to say a massive thank you to all the Team walking and also the official sponsors of the Event 'McColls Coaches' who are providing safe transport for the team to Wales and throughout the challenge.  McColls Coaches is a local family run business that are based in West Dunbartonshire.  Thank you very much to Liam McColl and his staff for supporting the ROHHAD Avengers 3 Peak Team.   
Best of luck to all of those taking on this Massive Challenge.  Touch the summit the Clouds and Sky for the children battling ROHHAD who cannot physically scale a mountain.