Sign up for our ZERO TO HERO Challenge and GO MAD FOR ROHHAD….
Release your inner HERO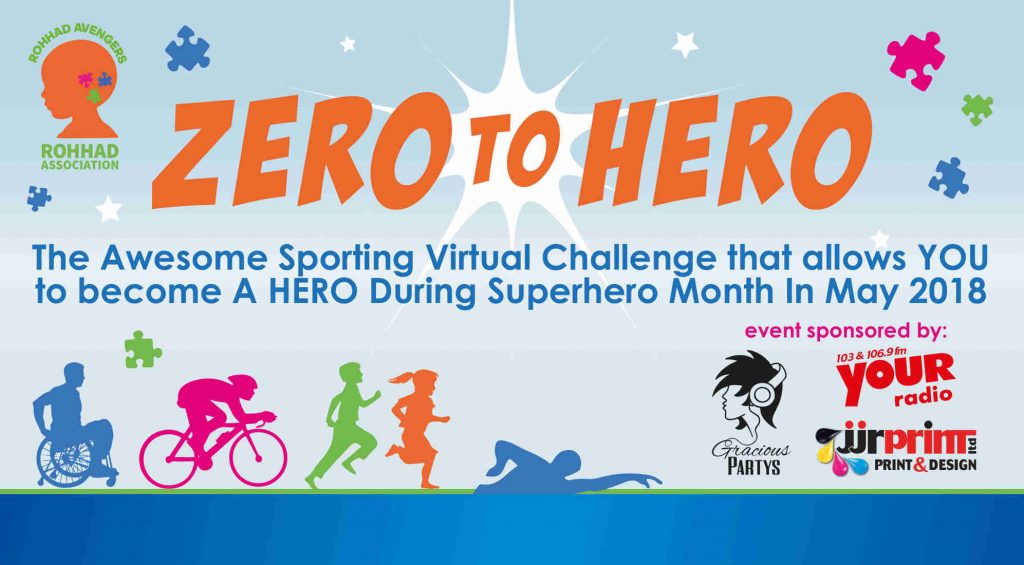 What is the ZERO TO HERO Challenge 
The ZERO TO HERO Challenge allows you to complete your chosen distance by doing a sporting activity(s) of your choice. You complete the challenge during superhero month and become a ROHHAD Avenger!
This challenge is inclusive of all ages and abilities worldwide and regardless of whether you are a trained athlete or have limited mobility, this is the sporting charity event for YOU!
Our aim is to raise global awareness and understanding of ROHHAD as well as fund medical research which will improve treatment options and hopefully one day save the lives of children and young adults affected by the disease.
By signing up for this challenge, you will go from ZERO (your starting distance) to HERO making a very real difference to the lives of all of the children still fighting against the EVIL ROHHAD.
• YOU choose the distance
• YOU decide how you will complete your distance
• YOU raise sponsorship online and or via our sponsorship forms.
• YOU track your distance online
• YOU complete your distance in 31 days
• YOU become a real life HERO!
The charity will hold a ZERO TO HERO launch day in Balloch Country Park, on Saturday the 5th of May 2018.
All superheroes taking part in the virtual challenge can sign up to attend our launch event. This one off event will offer an opportunity to meet fellow ROHHAD Avengers, while also taking in the beautiful breathtaking views of Loch Lomond National Park. You choose whether to complete 5km or 10km on the day which will count towards your chosen distance. [This is a free event for those participating in the challenge and tickets will be required to gain entry].
Participants are encouraged to come as their favourite superhero or can purchase one of our awesome ZERO TO HERO capes to wear on the day.
This will be be a fun filled family event with music, entertainment, face painting, glitter tattoos, tombola stall, food stall,  beat the goalie, fantastic sporting activities and much, much more.
If you would like to participate in the launch day please ensure that you select the 'launch day event' option when registering.
Participants who cannot attend the launch day should select 'Global Registration' option.
Click Below to Register for the ZERO TO HERO challenge (Global Registration)
Click Below to Register for 'launch day event' and ZERO TO HERO challenge
Click Below to Set Up Your Virgin Money Giving Sponsorship Page
Sponsorship and Recording Your Challenge Distance and Activities
Once you have registered online, you need to set up your online record and sponsorship page with Virgin Money Giving.  On your page you can customise it, share your own story and tell your sponsors and supporters why you are doing the ZERO TO HERO challenge. You can update your page and record your distances as you complete each part of your challenge.  You can share your page on your social media and encourage others to support you along the way.
Key ZERO TO HERO Challenge Information
Challenge Date – runs from 1st May 2018 until 31st May 2018

Distance –  Choices Between 5km and 200km for individual and family participants – Schools will choose their own collective distance.

Sport Activities – Walk, Run, Swim, Cycle, Wheel (in your wheelchair), Climb – It can be a combination of activities or one activity.  YOU Decide!

Location – Wherever YOU want it to be, it can even be the GYM !!

Sponsorship – Virgin Money Giving Page to be set up by participants to help raise funds for the charity and to record your distance and activity(s).
(sponsorship can also be raised using our sponsorship forms email rohhadassociation@gmail.com to request the form)

Reward – Once Challenge is complete you will receive your ZERO TO HERO ROHHAD Avenger Medal* or Acrylic Award** (Schools Only)
Key Launch Day  Information
ZERO TO HERO Launch Day – Saturday 5th May

Location – Balloch Country Park and Moss O Balloch Park (Start/Finish Line), (Address)

Distance – 5km or 10km

Sport Activity – Walking

Time for AM Walks –  10am Start, 9.30amWarm Up

Time for PM Walks – 1.30pm Start, 9.30am Warm Up

Additional Fun Activities (small additional cost to participate in these all proceeds to the charity)

Price – It does NOT Cost any extra to register for ZERO TO HERO Launch Day please see prices below.  You are automatically registered for ZERO TO HERO Challenge when you register for Launch Day.

Participants must bring their tickets to the Launch Day Registration Tent in order to collect their pack. Please read your email after registration for further information.
The main aim of this event is to have fun and release your inner HERO.  You can wear your favourite superhero costume whilst completing your distance or you can purchase one of our special edition ZERO TO HERO capes to wear.  These can be ordered at the time of registration. (not compulsory to do the challenge but could be FUN?!)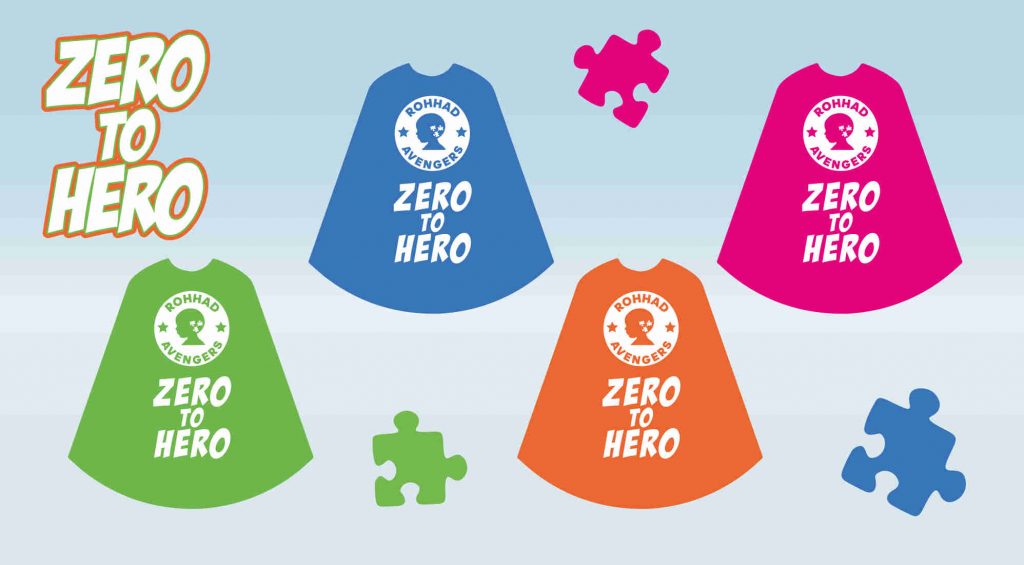 You can purchase your capes during both registration options.
Prices and Rewards
Individual Entry – £12.50

Children – FREE ENTRY  (up to 2 children can be registered free with 1 paying adult)

Youth Entry – £10.00   (this is for any children who wish to enter and or larger families with more than 4 children.  Children who enter must have a parent or guardian electronically sign that they have permission)

Concession Entry – £10.00  (disabled participants, OAP participants and Student Participants should choose this option)

Schools Entry – FREE ENTRY (for schools and child youth groups)

ROHHAD Avenger Capes Children – from £9

ROHHAD Avenger Capes Adult – from £11

*All Individual, Children, Youth and Concession registration price includes a special ZERO TO HERO ROHHAD Avenger Medal that they will receive once they have completed their challenge.

**All Schools and Youth Groups due to free registration will receive e – certificates via email and if the school raises more than £200 sponsorship they will receive a special Acrylic Award personalised with the School Name on it.
Click Below to Register for the ZERO TO HERO challenge (Global Registration)
Click Below to Register for 'launch day event' and ZERO TO HERO challenge
Click Below to Set Up Your Virgin Money Giving Sponsorship Page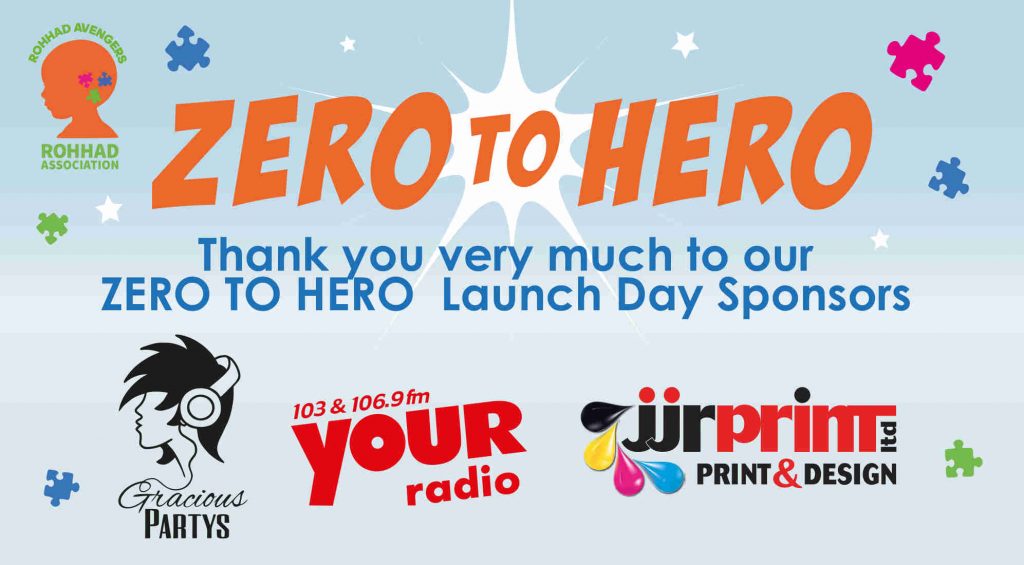 If you have any questions or require any further information about ZERO TO HERO please contact us.
Contact details are
rohhadassociation@gmail.com
ROHHAD Association
11A Lomond Crescent
Alexandria
G83 0RJ
UK 01389 753900